Meet Club Members and see the talents they are sharing.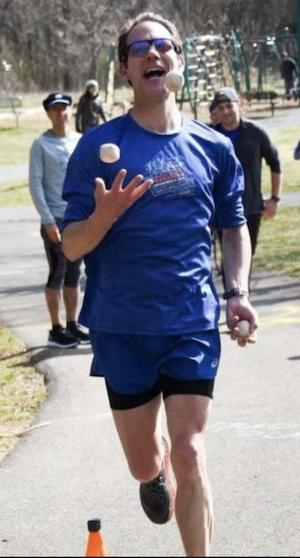 Name: Rick Kwiatkowsk
Personal Info: I am a self taught juggler, and it shows. I think I have improved since Air Raid let me in the door. But that could be self delusion.
First 3-ball Cascade: It was in high school. 3 tennis balls. My parents played a lot of tennis, so there were always tennis balls lying around. I would stand next to the bed so I didn't have to go far to pick them up.
Juggling Bio : My most noticeable achievements are joggling around the Rivanna Trail, up and down Old Rag, up and down Jarman's Gap, and setting the Guinness World Record for Joggling 50 miles. Most objects ever Juggled: I haven't kept track of all the objects I ever juggled. Thousands? Oh, you mean at one time? 5.
Favorite Skills: Running and Corn Hole.
Other skills: Table Tennis and Words with Friends.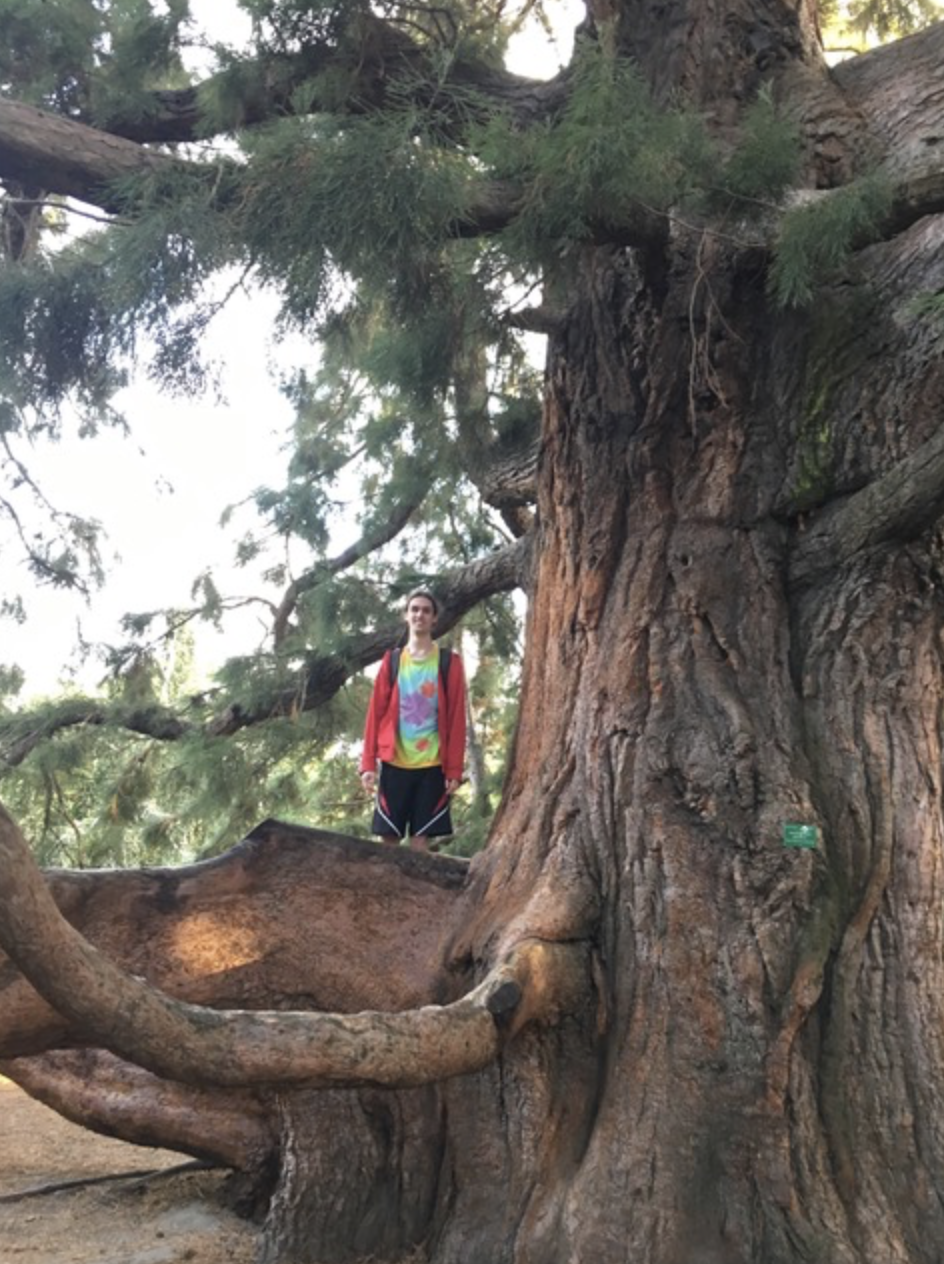 Name: Ian Becker
Personal Info: Grew up in Minnesota, where winters are colder, they called 4-count every-others, and PX3s were not as popular.
First 3-ball Cascade: Fifth grade, taught by Rosie and Lloyd of "Theater of Fools."
Juggling Bio : Learned to juggle in fifth grade, but did that really count as juggling? Was too busy reading books to join circus classes in junior high, so learned clubs in my back yard, but did that really count as juggling? Started a juggling club in high school because no one else was starting any fun clubs and my physics teacher thought it was cool, but did that count as juggling? Joined a juggling club in undergrad where I helped make the club a reality as there was only one other person who wanted to juggle consistently. And that counted as juggling because I actually started to practice.
Most objects ever Juggled: 5 by myself, 8 with help from one other person, even more with help from more people! Favorite Skills: Passing! Plus whatever I am currently working on.
Other skills: What other skills are more interesting than juggling?
And a PHOTO…? (Because I don't carry a camera with me like pretty much everyone else, I don't have too many photos of myself. I don't have anything juggling related later than high school, so here is probably one of the most current pictures I have.)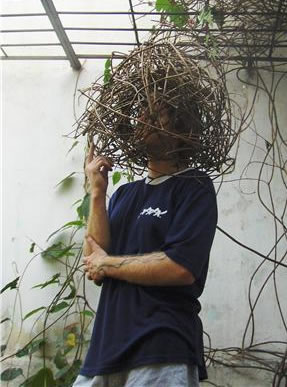 Name: Jason Randolph
Personal Info: boxers. likes long walks on the beach ..
First 3-ball Cascade: 5th grade
Juggling Bio : I first learned to juggle 3 balls and steal back and forth with my dad who is a fine juggler despite being unable to supinate his left hand thus having to make a "cup" with his fingers to get change at the drive-thru. I was satisfied with that sweet 3-ball cascade for about 18 years until 2006 when I was invited to do an art project with a circus school (Circo Ciudad) in Bogota, Colombia. Hanging around the circus re-kindled my interest and when I came back to Virginia I dug out the old clubs and rings that my folks had given me as a kid. Almost 20 years later they were pristine condition but, happily, not for long. Soon after, I found the Air Raid Jugglers via this precise website and once I had bought everyone's margaritas for 6 months, got a giant Air Raid tattoo on my chest, and pledged all of my present and future earnings to the club, I was able to became a regular member. I've been attending ever since and now juggle well beyond my original "if-only-I-could-do-this-one-trick-I'll-be-satisfied" aspirations. Now if I could only do 5 clubs ..
Most objects ever Juggled: 6 balls, 2 jobs, 1 girlfriend (flash only)
Favorite Skills: 3, 4, 5 balls, soccer juggling, club passing, torches
Other skills: art, soccer, magic, teaching, writing, math, español, tomar jumbos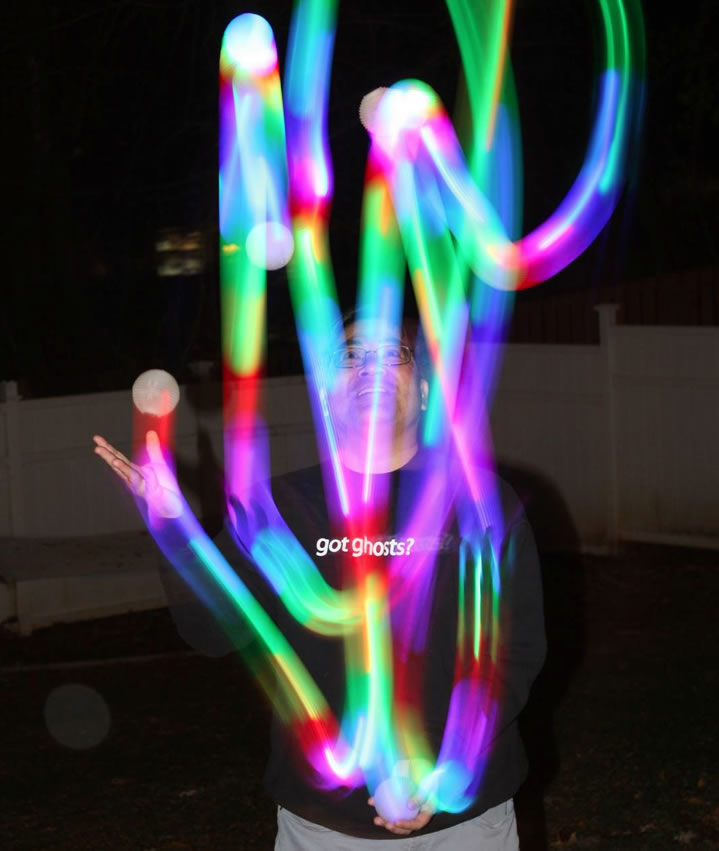 Name: Eric Shibuya
Personal Info: Professor, Teacher, Island Boy
First 3-ball Cascade: 13 years old, watched (I think) the Flying K's teach kids on Sesame Street while I babysat by little sister.
Juggling Bio : Learned to juggle at 13, got better in college (clubs, 4 balls, passing), got much better in grad school (5 balls, fire, 7-8 club passing). Then took nearly a 20 year hiatus on getting better. Now trying to see if I can get to 7 balls.
Most objects ever Juggled: 6 balls, 5 rings, 4 clubs
Favorite Skills: Something magical about holding a 5 ring cascade. Working on 5 ball tricks, enjoy teaching. Fire juggling
Other skills: Meteor (connected poi, if you will)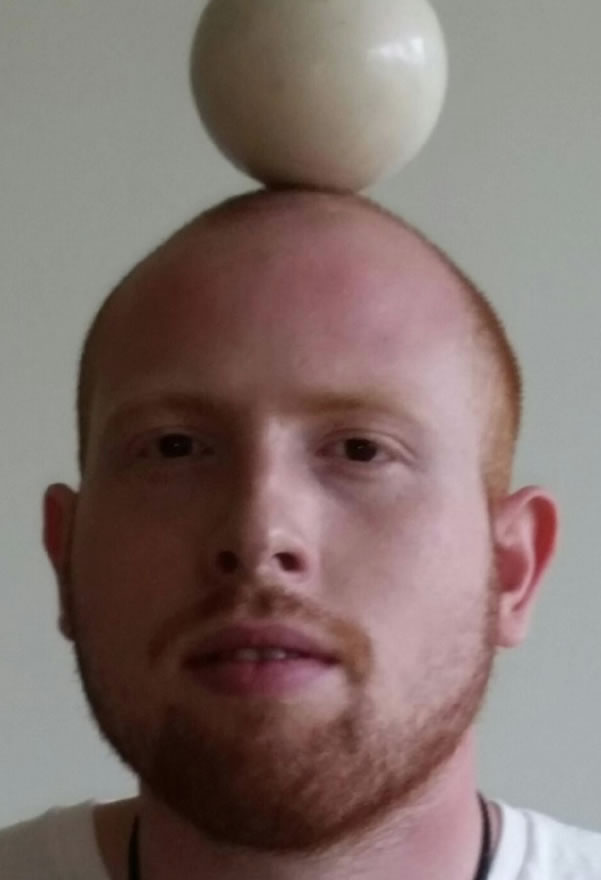 Name: Rojo Arvelo-Perez
Personal info: Pretty active lifestyle! Like to work, study, have fun, and most importantly: JUGGLE DUH?! From puerto rico and have traveled the world. Excited to meet new jugglers and really enjoy the air raid juggling club. Learning is one of my buffs, and I do it well. Always looking for a new friend.
First 3 ball Cascade: 16 years old.
Juggling bio: Learned to juggle at the age of 16, started with balls, then to clubs. Took me 3 weeks of practicing clubs till 4 in the morning in order to successfully juggle them consistently. I then shortly came in contact with devil sticks and tried them out. A year later I was introduced to contact juggling. I am mainly a contact juggler, but can toss juggle and pass clubs. Prefer to learn how to balance, but take time to learn other things because they too are fun. Just recently got hooked on the soccer ball and bounce juggling. Willing to see how that will go. Goals are to be like other jugglers I know.
Most Objects ever juggled: 4
Favorite Skills: object manipulation, balance, bounce, rolling, isolations.
Other skills: Toss, Pass, Steal, Drop haha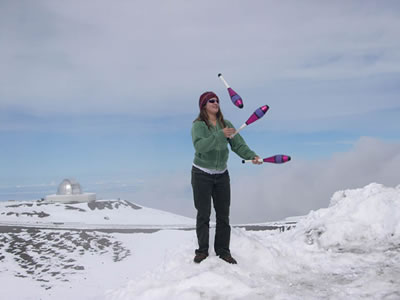 Name: Erin Riley (www.magicianoflife.com)
Personal Info: Juggling keeps me sane.
First 3-ball Cascade: April 2005
Juggling Bio : I found juggling at age 21 and it changed my life. Just keep throwing!
Most objects ever Juggled: 5 rings, 6 balls, 9 club passing, 20 jobs, 6 boyfriends
Favorite Skills: Club Passing, Muti Prop Tricks, Teaching
Other skills: Make you laugh so hard you forget what your doing and drop, Master Margarita Stealer, Disappearing.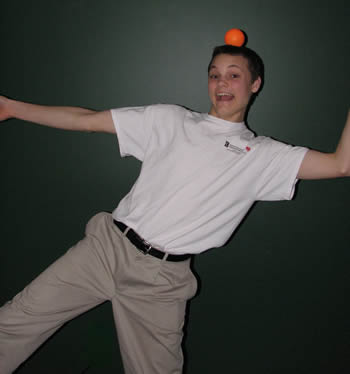 Name: Chris Hodge

Personal Info: I am 16 years old, homeschooled, and in eleventh grade.

First 3-Ball Cascade: July, 2002

Juggling Bio: When I first learned to juggle in 2002, I learned 3 and 4 balls but was not interested enough to go any farther with it. Then in 2006, my brother was given a DVD of the 2005 International Jugglers Association Festival. All the acts in the stage competitions were so amazing, they inspired me to start juggling again. That time, I kept at it and am now juggling every minute of my spare time. Since watching the DVD, I have made the finals of the IJA Juniors Championships twice, in 2007 and 2009, and have broken three world records with my brother Andrew, the 14, 15, and 16 ball two person passing records.

Most Objects Ever Juggled: 9 Balls, 7 Rings, 6 Clubs, 9 Ball Bouncing, 11 Ring Passing, 14 Ball Passing, and 10 Club Passing.

Favorite Skills: Technical Ball Juggling.

Other Skills: Swimming and anything my Mom makes me get good at in school.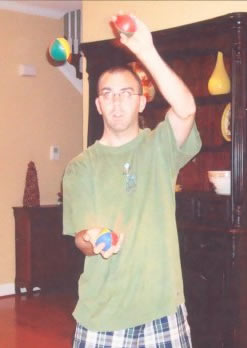 Name: Kristian Hargadon

Personal Info: Born in Powhatan, VA in 1979, attended Hampden-Sydney College (biology major) and did graduate school and postdoctoral work at University of Virginia in Microbiology/Immunology (tumor immunology [melanoma] and viral immunology [influenza]) , Biology Professor at Hampden-Sydney College as of summer 2009

First 3-ball cascade: Christmas 2007

Juggling Bio: As a joke, my parents bought me 3 juggling beanbags for Christmas 2007 so that I could have a "toy" to play with. I taught myself the 3-ball cascade and thought I knew how to juggle, so I tucked the balls away in a closet. 4 months later, I randomly saw a juggling video on YouTube and saw my first ever juggling "tricks." From that point, that was it, game over, I had my new hobby. Many props and several hundred dollars later, I am HOOKED!

Most objects ever juggled:
Balls - 5
Bounce balls - 7
Clubs - 3
Rings - 4
Cigar boxes - 3

Favorite skills - I go through different phases with different props, so I never get bored. Pretty much anything at one point or another has been a "favorite."

Other skills: Golf (not good skills though), tennis, and used to play basketball but have gotten out of shape, and juggling does not require running, so it's perfect!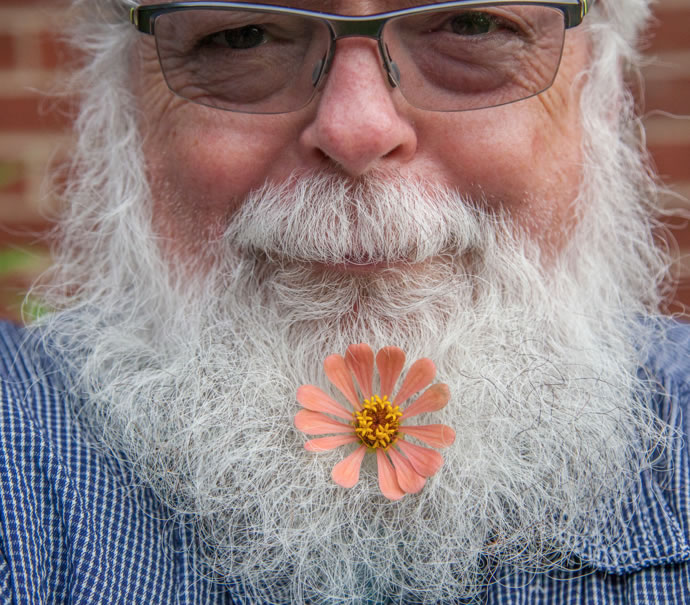 Name:Bud Branch
Personal Info: Yogi, pixel-punisher, airman, busker
First 3-ball Cascade: age 14, inspired by my Dad
Juggling Bio : juggling as meditation/therapy - there is always something new to learn
Most objects ever Juggled: 4
Favorite Skills: columns
Other skills: play/teach banjo/mandolin. headstand. PHD (post hole digging). Very good on the phone - I give good phone.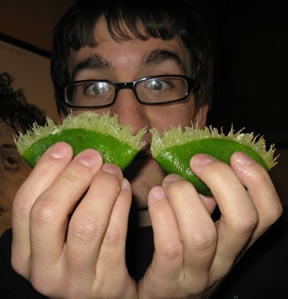 Name: Tony Gonzalez
Personal Info: Reporter, juggler, engaged
First 3-ball Cascade: Seventh grade (1998) in my living room after about a week trying.
Juggling Bio: Got good enough to consistently qualify and lose in the Teams Championships at the International Jugglers' Association annual festival. Finally got third in 2005 as "Entropy," with longtime partner Will Oltman. Also earned the Sean McKinney award. I appear in various juggling DVDs and have been a regular club member at groups in the Chicago-area, Detroit, Minneapolis, and now Charlottesville. Taught a for-credit juggling course at my college.
Most objects ever Juggled: 6 clubs, 7 balls, 10 club passing, 11 ball passing
Favorite Skills: Three-club tricks
Other skills: Kendama, tennis can manipulation, etc.
VIDEO LINKS: Practice Room , Tricks,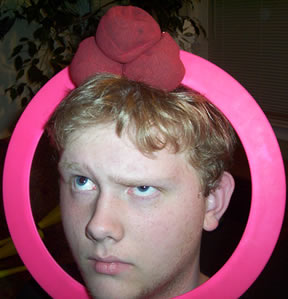 Name: Daniel Eaker
Personal Info: I was born in Richmond, Virginia in 1991 and have lived there my whole life. I am currently finishing my high school education through home schooling. Juggling has been a passion and obsession since early 2006.

First 3-ball Cascade: March 31, 2006

Juggling Bio: I first decided to start juggling after seeing an internet video and saying "Hey, I can do that." So I tried, learned 3 balls, and immediately became addicted to juggling. I loved juggling because I could see results. There was something new to learn or get better at everyday. I went to my first Air Raid juggling club in early February, 2007, and quickly became one of the regulars.
My first convention was the Congress of Jugglers festival in Maryland. That convention was where I had my first performance. My second convention was the IJA festival in Winston-Salem, North Carolina. I had the chance to perform and compete in multiple events. I love to compete and challenge my own abilities.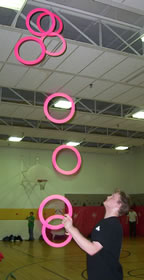 Most objects ever Juggled:
Qualifying runs: 9 balls, 8 rings, 6 clubs
Under-qualifying runs: 10 balls, 9 rings, 7 clubs

Favorite Skills: Technical and creative solo toss juggling with balls, rings, and clubs; 1 and 2 club manipulation, balancing while juggling.

Other skills: Contact juggling, bounce juggling, diablo, cigar boxes, ball spinning.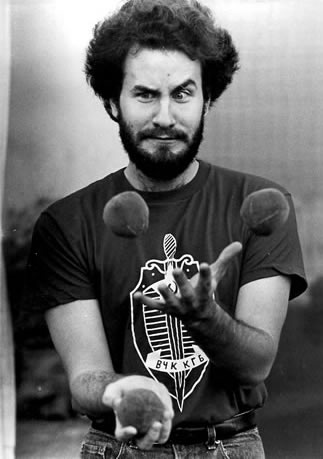 Name: Tom Hamill

Personal Info: Born in 1965 and raised in Bowie, Maryland
Earned a B.S. in Aerospace Engineering from Syracuse University in 1988
Currently a Senior Engineer at Northrop Grumman
Wife: Suzan Kids: Lea and Aaron
We live in Bealeton, Virginia

First 3-ball Cascade: Sept 1983 as a freshman at Syracuse University

Juggling Bio: Was a member of the Syracuse University Juggling Club, The Jugglers of Bowie and the U.S. Department of Juggling. Taught Juggling and street performed at the Maryland Renaisance Festival from 1992 through 1995. Also performed at the Norfolk Mini Fest in 1994 and 1995. Spent 2 years learning stage combat and swordplay with the Washington Shakespeare Company. Currently writes the InPassing column for the magazine Juggle. This is a how-to column on club passing tricks and patterns.

Most objects ever Juggled: 6 balls

Favorite Skills: Club passing, Solo balls, Claymotion, Solo Clubs

Other Skills: Diabolo, Rings, Contact Juggling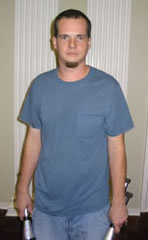 Mark Griffith (on sebatical)
Born: Richmond,VA 1981
first cascade: Dec. 1998
live in phoenix and commute to the meetings
collect celebrity earwax
bounce 7 balls( it's really coming together)
Other hobbies: skydiving, puppy spinning, long distance pumkin chucking,
smoke-signaling, olive juice extracting,amature meteorologist/ stormchaser,
beekeeping,orthodontic tech(child torturer).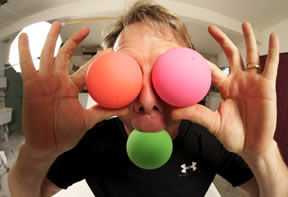 Name: Mark Nizer
Personal Info: Juggler, married
First 3-ball Cascade: Seventh grade, juggling class taught by Hemlock the clown!!!
Juggling Bio:Me juggle long time....
Most objects ever Juggled: 5 clubs, 7 balls, 9 rings.
Favorite Skills: What ever I am currently learning.
Other skills: hang gliding, anything Mac, critical thinking
Video Link: here
Add Your Entry:
Email us the following:
Name:
Personal Info:
First 3-ball Cascade:
Juggling Bio :
Most objects ever Juggled:
Favorite Skills:
Other skills: